[mp_row]
[mp_span col="12″]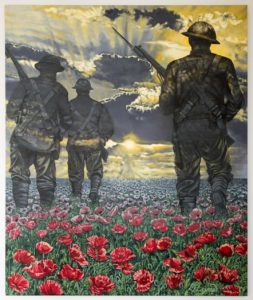 The Victories Centennial Gala will be an evening to commemorate the 100th Anniversary of three great battles fought by the Canadian Corps in 1917: Vimy Ridge; Hill 70; and Passchendaele.
We will remember and honour the sacrifice and celebrate the countless acts of valour and courage which took place during these battles.
Please help us keep great history alive in our youth through the funding of educational programs.  All proceeds from this event will be used to support area youth education.
DATE: Friday, October 20, 2017
TIME: 5:30 for 7 p.m.
LOCATION: The Telus Convention Centre, 120 – 9th Ave SE, Calgary, AB
        DRESS: Military – Mess Kit; Non-Military – Black Tie or Business Formal
SPONSORSHIP AND DONATIONS
Please consider becoming a Sponsor or Donor of this event. All funds raised will go to support youth education through battlefield studies or busing which will allow Calgary and area youth to access The Military Museums. Download here the Victories Centennial Gala Sponsorship Opportunities Brochure.
Please consider purchasing an extra ticket to sponsor a currently serving soldier or veteran to attend the Victories Centennial Gala as your guest or to also sponsor attendance by the spouse of a serving soldier of veteran.
Donations in any amount will entitle you to a charitable tax receipt in the amount of your donation and you or your organization's name will be listed in our Program and on our website, if so desired, with our sincere thanks. To make a donation to support youth education about Canada's rich military legacy, click here.
TICKETS
Your invitation to attend may be downloaded here.
Individual tickets are $250 | Tables of 8 are $2,000. Tickets may be purchased here.
For further information or to purchase tickets for the event, please contact:
Kathy at 403-948-3082 or Tom at 403-605-9705. Email: [email protected]
Victories Speaker Series
On 14 September at The Military Museums, Dr. John Scott Cowan, Principal Emeritus at the Royal Military College of Canada will speak on the topic "Hill 70 in Context: From Colony to Ally and Towards a Canadian Way of War". For information and tickets click here.
[/mp_span]
[/mp_row]