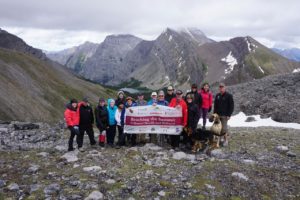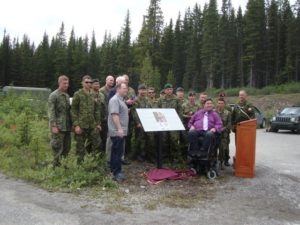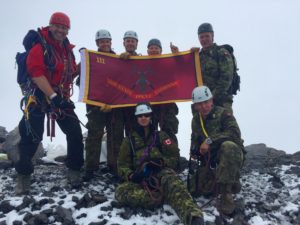 Reaching the Summit for Mental Health and Wellness, 25 June 2016, a partnership between Calgary Health Trust, the Foundation and our sponsors and supporters netted more than $70,000 to support veterans and their families dealing with PTSD and other forms of mental illness. A 2017 event is in the planning and tentatively scheduled to take place on 24 June 2017 at the base of Mount Farquhar, named in 1919 to honour the memory of Lieutenant-Colonel Francis Farquhar, DSO, the founding commanding officer of Princess Patricia's Canadian Light Infantry. The photo below is the view looking east from the Summit of Buller Pass with the Ribbon Creek Valley, Ribbon Lake and Mount Kidd to the centre and right of the photo.
Like the Reaching the Summit for Mental Health and Wellness Facebook Event Page and get regular updates on forthcoming events:

Reaching the Summit for Mental Health and Wellness took place in the area of Mount Buller, which was named to honour Lieutenant-Colonel Herbert C. Buller, DSO, who died leading the PPCLI in action at the Battle of Mount Sorel on 2 June 1916. Buller was one of three officers on the staff of the Governor General, the Duke of Connaught, who joined the PPCLI at its formation in August 1914. Buller was appointed as its Adjutant, responsible for recruiting and selection of nearly 1,100 soldiers, who became known as the "Originals".
The event had two main purposes:
1. To heighten awareness of the challenges faced by veterans and their families as they deal with issues related to PTSD and other forms of mental illness.
2. To raise funds that will enhance the clinical treatment programs provided through Occupational Stress Injury (OSI) Clinics through the provision of proven outdoor therapies.
Reaching the Summit for Mental Health and Wellness 2016 consisted of four activities:
1. A climb to the summit of Mount Buller (Elevation 2,805m). This climb was attempted by 27 persons including a team from A Company, 3PPCLI. 21 of the 27 made it to the summit.
2. A hike of almost 16km from the Base Camp to the summit of Buller Pass (Elevation 2,470m). All 16 hikers succeeded in completing the hike.
3. The dedication of interpretive signage by the Minister of Veterans Affairs and Associate Minister of National Defence, the Honourable Kent Hehr. This ceremony was conducted in the Buller Mountain Day Use Area following the conclusion of the climb and the hike.
4. A family barbecue prepared by the Calgary Police Association's BBQ Unit.